Meet the Co-creators of Creation Lab…
Alex Wirth grew up playing in punk bands in the finer garages of Southern California. The Punk Rock community spirit and Do It Yourself attitude are now stuck in his heart forever. Alex got a degree in literature from the University of California Santa Cruz so he has a lot of books now, some of which he can even understand.  He got an M.Div from McCormick Theological Seminary so he has a lot of theology now, some of which he can even understand.  Alex is one of the pastors at Lake View Presbyterian Church (LVPC) on Chicago's north side where he focuses on Social Justice and welcoming LGBTQ youth into the church for safe space every friday night at Cafe Pride. His main art things are writing, building things out of other old things, making loud music, and drawing poorly but in a cool way.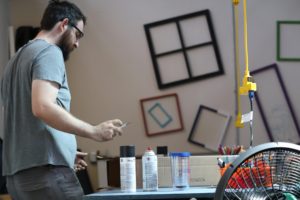 He's on the twitter @alexwirthlvpc and instagram: @heypanic
You can also check out some of Alex's writing for The Presbyterian Outlook.
The classic line from Grease, "If you can't be an athlete, be an athletic supporter" applies to Tara Thompson's relationship with the arts.  Her skills and talents are elsewhere, but she loves the arts and is excited to be a part of Creation Lab.  Tara is a civil rights and criminal defense lawyer by day, and is honored to represent clients and try to bring a little bit more justice into the world as a partner at Loevy & Loevy and a staff attorney with the Exoneration Project at the University of Chicago Law School.  (Wo)man does not live by bread alone, though – Tara also loves hockey, the Utah Jazz, going to theater and concerts, and trying to keep up with all the artistic people in her life.
Megan Cochran was raised in small-ish town Minnesota where crafting and creating were commonplace. Her childhood was filled with helping her grandpa Clarence weave chairs, making hemp necklaces with friends and nailing shaved doll heads to a board for a high school art show. But, she never considered herself an artist until professor Lib Caldwell told her she was one while attending the MDiv program at McCormick Theological Seminary. She took those words to heart and now (on good days) even calls herself an artist. When she isn't creating crafty projects for Sunday School as one of the pastors at Lake View Presbyterian Church (LVPC), she is knitting cowls, sewing stuff, or experimenting with her newest love: weaving tapestries. She always knows that she can find God in the clicking of knitting needles or the hum of a sewing machine.
Shawna Bowman hails from Iowa and used to get in trouble for drawing "too loud" in church. But really making stuff… music, crafts, woodworking, sewing projects were the life-blood of her family and she was just pitching in with her best gifts – visual arts. Shawna graduated from Iowa Wesleyan College with a degree in Studio Art and Art Education and used it to teach, learn and play with amazing students for five years in the public schools before heading off to seminary to lose herself in the work of becoming a pastor. What she learned instead was that for her pastoral imagination to flourish she couldn't stop creating, and now she says yes to making, building, creating, writing and sometimes even speaking in worship experiences all over the country.  The intersection of art and faith is where Shawna calls home, so she might just build a cot here at Creation Lab and stay forever (except when she goes to work at the creative and quirky congregation she pastors called Friendship Presbyterian Church)!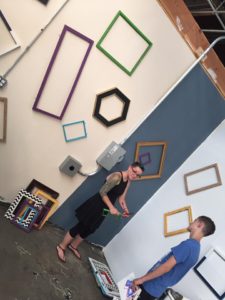 She's on twitter and instagram at: @shawnabowman and posts her work at: artforgodsake.com
You can also check out her work for The Presbyterian Outlook titled Worshipping a Creative God from 2016.
Shelley Donaldson grew up amongst the pine trees of Georgia and the marshes of South Carolina where the love of nature led to the creation of countless landscape paintings and drawings during her childhood. In high school, Shelley spent her time babysitting, working in her art classes, and leading the fighting tigers colorguard! Once in college, she hung up her flags and, to her mother's delight, focused on studying art and philosophy at Clayton College & State University and the University of West Georgia. After acquiring as much information on the humanities as she could, she then earned her Master's of Divinity at McCormick Theological Seminary. Shelley is a youth worker at Fourth Presbyterian Church in downtown Chicago who spends lots of time at Montreat Conference Center in Black Mountain, NC, working with youth in Chicago, painting anywhere she can find space, hanging out in art museums and at Creation Lab, working on Christian education curriculum, napping with her furry children, and working on perfecting her biscuit recipe.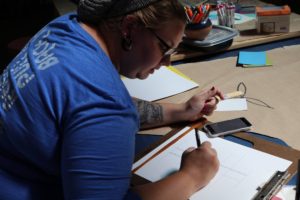 You can follow her blog, The Traveling Theologian and you can check her out on Twitter @shelleydt247 and on Instagram @scdonaldson
Jennie Martin made her way to Chicago as a bright eyed Loyola Theatre Major straight out of Cincinnati and never looked back. Now she spends her time mentoring an amazing student staff, running events, coordinating PR and herding cats (artists) as the Director of Public Programming for the Department of Fine and Performing Arts at Loyola University. Jennie loves to simultaneously manage productions, concerts and family and secretly enjoys doing her taxes. She also pretends to knit, can make a mean oatmeal chocolate chip cookie and is the resident Math aficionado when it comes to homework help! Jennie loves to collaborate and can't wait to see what emerges here at the Creation Lab.